Military and Defense Manufacturing
FedTech has extensive experience in manufacturing military and defense equipment. Over the years, we have become skilled in military and defense manufacturing as we have the resources, facilities and expertise required to get the job done.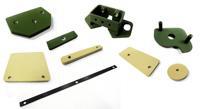 We manufacture parts from armor plating for military vehicles such as the hemit vehicle, hummer, M915, and more. Materials often used include Titanium, HH, H480, H4100, AR236, AR400, AR500, Bullet-proof glass, Mil-A-46100, HY-80, HY-100, and Domex 100XF HSLA. FedTech also has the ability to take care of any paint or finish specifications for defense or military parts as well.
FedTech is a trusted source for military and defense manufacturing, we have handled enormous amounts of armor plating for several military and defense operations. If you have any questions about our manufacturing capabilities and facilities, please do not hesitate to ask.
We currently run eleven work cells for waterjet, and two for laser cutting. In addition to these, we also provide machining of all types including: welding, drilling, tapping, forming, finishing, assembly, and more.
For a great one-stop shop, request a quote from FedTech. For a complete list of our facilities, visit our Facility Page. Specifically for the defense and military industry, we offer the top services for processing thick, armor plate and ballistic materials including:
Titanium
Kevlar
Carbon steel
Stainless steels
Aluminum
Inconel
Hastelloy
Monel
6061 Alum
7075 Alum
HY80
HY100
Grade 50 Carbon Steel
LCS (low carbon steel)
Mil-DTL-46100
Of these materials, we're able to help your company develop finished parts for projects such as military vehicles (Humvees, hemit, hummers, M915 and more), information technology pieces and parts, and other related military and defense items used by our troops.
Some of Our Large Capacity Machinery.

The Bystronic Bystar 4020 is our newest in laser cutting machinery.
669 inches per minute
Cutting tolerances of +/-.003"
Holds 3500 pounds of material
157" x 79" work envelope
Bytranscross material automation
Shuttle table system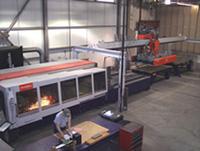 The Byspeed 3015 provides a fast turnaround on the production floor.
Cutting tolerances of +/-.003"
Lights out capability
120" x 60" work envelope
Total engineering capability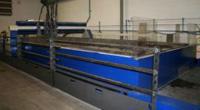 This waterjet cutting table is one of our largest, the Wardjet 3013 has the capability to cut even the largest materials up to 12" thick.
156" x 360" work envelope
Tolerances of +/-.003"
Multiple cutting heads
Allows for 60,000 psi cutting
With these large pieces of laser and waterjet cutting equipment, we're able to provide quick turnaround, competitive pricing, and quality results for our customers.
FedTech provides 24 hour priority quoting, e-mail RFQ submittal, and competitive pricing for your laser and waterjet cutting applications. In addition, we offer heavy duty forming and welding capabilities to make purchasing your parts from one source convenient.