Manufacturing of
Medical Parts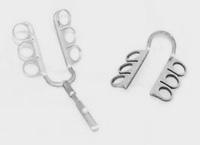 When it comes to the medical industry, it's good to know that you have great quality control on your side. As an ISO 9001:2015 certified job shop, we're confident in the medical industry parts that we manufacture. Whether your part needs to be processed using waterjet cutting, or if it's a job for custom laser cutting, we are happy to help you with your custom medical machining.
Noteworthy parts that FedTech has manufactured in the past were small pieces shown above. These were actually used in open heart surgery. The custom manufactured medical pieces were a successful project. Though the medical parts were intricate and challenging, FedTech was able to machine them to the exact specifications which is critical when dealing with any life-altering pieces in the medical industry.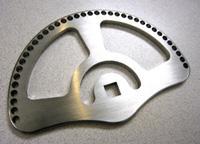 Materials often used in medical component manufacturing might include the following: titanium (and titanium coating), 316 stainless steel, 17-4 stainless steel, 17-7 stainless steel, 316 stainless steel sanitary tubing, 303 stainless steel, 14-7 stainless steel, 455 stainless steel, and more. To see specific case studies explaining the parts seen here, visit our case studies page.
To see previous work we have done, take a look at our Photo Album or you can also see FedTech in action in our Short Videos section. Our water jet and laser cutting case studies show some of the challenging projects we've successfully completed.
Contact Us today to learn more about abrasive waterjet technology or to compare waterjet and laser cutting services for your manufacturing project. See what FedTech can do for your next project!