Laser Cutting Services
We understand that custom manufacturing requires precision and accuracy. That's why at FedTech, we offer the most advanced laser cutting technology to maximize uptime while keeping costs to a minimum. Our CAD/CAM capabilities and machines are equipped with automation – so no matter what shape or size you need, we have the capacity to deliver an exact product with unbeatable speed and efficiency.
Accuracy Meets Efficiency
Custom cutting of aluminum, stainless steel, copper, carbon steel and other metals is just the beginning of laser applications at FedTech. With a range of power densities, our laser cutting systems are ideal for both large- and small-scale applications. Laser technology changes constantly; we stay on top of it.
Our various laser cutting machinery is designed for laser cutting short to long run production. With the automatic dual pallet loading systems, FedTech ensures quality parts, and quick turnaround with our laser cutting services; straight from our Minnesota laser cutting shop to you. Laser cutting is a perfect solution for everything from custom copper gaskets to custom perforations.
Benefits of Laser Cutting
By using our laser cutting services customers are able to eliminate costly tooling charges, nest irregularly shapes and realize a quick turnaround on parts.
Easily nest irregular shapes without the need for costly tooling
Nest jobs with like material for an efficient cutting process
Achieve maximum production uptime with machinery automation
Minimizes secondary cleanup for most materials
Obtain high accuracies and repeat precise shapes
Common Laser Cut Metals
Custom cutting of aluminum, stainless steel, copper and carbon steel is just the beginning of the common laser applications at FedTech. Our metal laser cutting services are an effective alternative or compliment to waterjet cutting. FedTech offers custom laser cutting services, engineering capability, and full CAD/CAM capability. The difference between laser cutting and waterjet cutting can be seen on our "Waterjet vs. Laser Cutting" web page. FedTech is a nationally recognized laser cutting company located in Mounds View, MN.
Aluminum
Carbon steels
Alloy steel
Copper
Other Metals
Fedtech is your company of choice when it comes to laser cutting metal
Trustworthy – With more than 25 years of trusted service, you can count on us for consistent excellence.
Quality – Our laser cutting process produces precise and accurate cuts that give your projects a professional touch.
Versatility – We can cut a wide variety of materials including aluminum, steel, stainless steel, and more.
Efficiency – With our fast turnaround times, you can have your parts ready to use in no time.
Reliable – Reliable services for any job, big or small thanks to our flexible laser cutting metal options.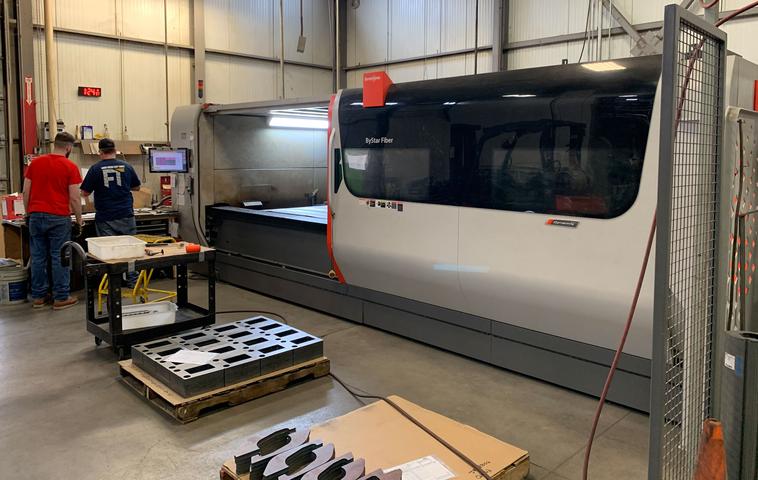 Been There
Cut That
Laser cutting is an excellent choice for the custom machining and manufacturing needs of various industries and applications. Learn more about FedTech's custom laser cutting services today.