Steel Laser Cutting Services
Using state-of-the-art machinery, we deliver the highest quality stainless steel laser cutting services to fit your specific project needs. Turn to us no matter whether your custom manufacturing project is large or small.
Steel Laser Cutting
Stainless steel's versatility makes it a popular metal choice for many industries. Steel laser cutting provides the ability to make a custom fit for nearly any application. FedTech offers expert stainless steel laser cutting to fit your project's unique needs. Our state-of-the-art cutting equipment can form any material required from stainless steel railing to custom perforations.
The Many Benefits of Laser Cutting Stainless Steel
The only way to combine accuracy with efficiency is to take advantage of custom laser cutting. At FedTech, we offer automatic dual pallet loading systems to ensure quality parts and a quick turnaround for short- to long-run production projects.
Stainless Steel: High Strength & Durability
Stainless steel is best known for its strength and durability. Due to its chromium content, it's extremely resistant to corrosion, meaning it stands the test of time. Stainless doesn't need to be treated or coated to withstand the elements, making it a great choice for industries such as agriculture and construction.
Stainless steel also performs well under tension or pressure due to its high tensile strength. Consisting of iron and carbon, steel is the strongest alloy metal available. It's easy to form and fabricate, perfect for all projects, from decorative to mechanical and beyond. Steel is also low maintenance and environmentally friendly.
Steel Laser Cutting Industries
Everywhere you look you can see stainless steel, from your appliances to those skyscrapers in the distance. By laser cutting stainless steel, FedTech serves a wide range of industries, including:
Construction

Architecture

Automotive

Electrical

Energy

Aerospace

Power generation

Medical

Aircraft

Military and defense
For example, stainless steel is commonly found in car exhaust systems due to its strength and durability. You'll also find it in medical devices due to it being easy to sterilize and corrosion-resistant.
Laser cutting steel is easy for the experts here at FedTech. We house the state-of-the-art equipment required for accuracy and fast turnaround. Plus, we always stay up-to-date on new advancements in the industry. Our steel laser cutting services eliminate costly tooling charges and minimize secondary clean-up for most materials.
Call Us to Learn More About Our Steel Laser Cutting Service
We take pride in providing the best laser cutting services available. To learn more about our services or to get started on your project today, give us a call at 763-784-4600 or send us a message.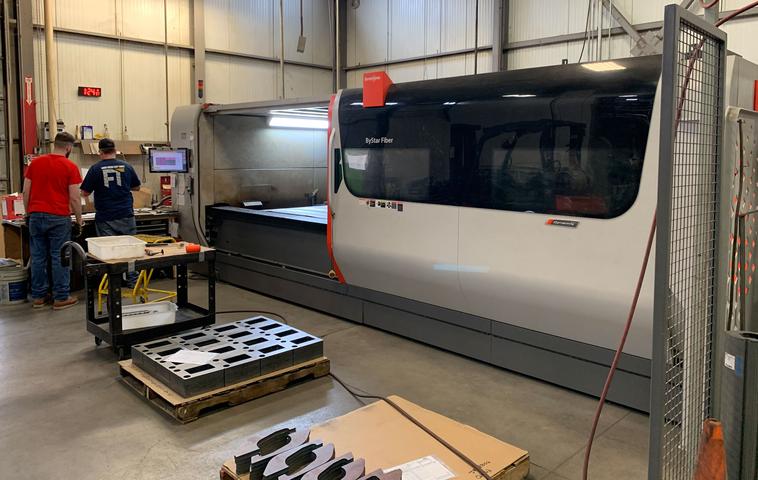 Been There
Cut That
Laser cutting is an excellent choice for the custom machining and manufacturing needs of various industries and applications. Learn more about FedTech's laser cutting services today.