Laser Cutting Services in Minnesota
When your project requires extreme accuracy without sacrificing production speed, you need expert laser cutting services. FedTech offers a wide range of industries from aircraft to custom manufacturing with laser cutting services in Minnesota for small- to large-scale applications.
Expert Laser Cutting in Minnesota
Our team of 80 manufacturing professionals plus more than 70,000 feet of production space enables us to deliver high-volume orders without sacrificing quality. In each project we complete, we showcase our commitment to ISO 9001:2015 quality standards. Our laser cutting machinery is state-of-the-art with full CAD/CAM capabilities.
How Does Laser Cutting Work?
Laser cutters are a type of CNC machinery. Inside the laser cutter, a column of high-intensity light, also known as a laser beam, is focused on the material through the head of the laser cutter. As the beam moves precisely across the material, it melts or "cuts" the material into the shape desired. 
Compared to traditional CNC machining processes, laser cutting is often faster and results in a reduced chance of material warping. Plus, it eliminates the need for costly tooling.
Laser cutting is known as an effective alternative or complement to waterjet cutting, a heat-free method of cutting various materials.
Common Laser Cutting Materials
Laser cutting results in custom parts for any size project. Depending on your application, you can choose from several common laser cutting materials, including:
Aluminum
Carbon steels
Alloy steel
Copper
Not sure which material is best for your project? We can help. We've manufactured hundreds of laser cut parts, including:
Custom gaskets
Custom brackets
Building marquis panels
Stainless steel railing
Perforated sheets
For custom laser cutting in Minnesota, you can trust your project to FedTech.
Call Us Today to Learn More About Our Minnesota Laser Cutting Services
There are many choices for laser cutting in Minnesota. It's our experience and state-of-the-art equipment that we believe makes us the best choice for any project, large or small. To learn more about our laser cutting services in Minnesota, give us a call at 763-784-4600 or send us a message.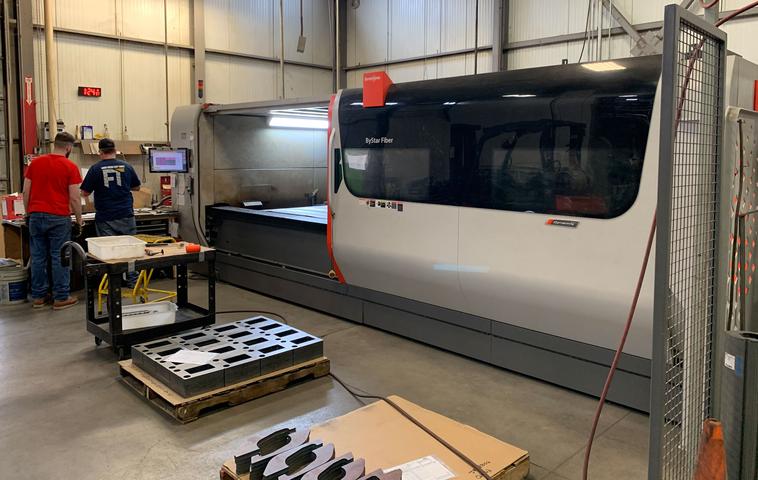 Been There
Cut That
Laser cutting is an excellent choice for the custom machining and manufacturing needs of various industries and applications. Learn more about FedTech's laser cutting services today.