Laser Cutting Machine Shop United States
FedTech is your one-stop-shop for all things laser cutting and CNC machining. With our specialized equipment, a full-service custom laser cutting shop and an expert team, you can trust us to deliver the highest quality materials for your design.
Experience Our Custom Laser Cutting Shop
Our laser cutting machine shop includes 70,000 square feet of production space with a 20,000 square foot materials inventory. Inside our laser cutting machine shop, you'll find state-of-the-art equipment for custom laser cutting, waterjet cutting and CNC machining.
Our shop houses some of the most advanced automated lasers on the market, including:
Bystronic Bystar 4020 10kW Fiber
Bystronic Bysprint 3015 6kW Fiber
Bystronic Bysprint Pro 3015 Co2
These machines and our expert CAD/CAM abilities enable us to deliver quality parts perfectly matched to print specifications for a wide range of applications.
Is Laser Cutting the Best Choice for Your Project?
There are many benefits to using laser cutting for shaping and cutting materials. Laser cutting results in high levels of accuracy, even when dealing with irregular shapes. It eliminates the need for costly tooling and increases uptime through machinery automation. You can also expect reduced cleanup for most materials, resulting in a faster turnaround.
Our team of manufacturing experts will help you determine if laser cutting is right for your project. If not, we offer many other services, including waterjet cutting, CNC machining and more.
Common Laser Cutting Materials
Laser cutting is a great method for cutting metal materials. Some of the most common laser cutting materials include:
Aluminum
Carbon steels
Alloy steel
Copper
We offer all of these materials in various sizes on-site within our laser cutting machine shop.
Industries We Serve
At FedTech, we serve companies across the US in a wide range of industries, including:
Automotive
Medical
Manufacturing
Aircraft
Defense
We help companies produce designs large and small from intricate railing designs to custom gaskets and signage. If you require laser cutting of any size, we have a solution.
Learn More About Our Laser Cutting Shop by Calling Us Today
We're your one-stop-shop for expert laser cutting services in Minnesota. Our laser machine shop is equipped for even the largest designs, from prototype to full-scale. To learn more about our laser cutting shop or our laser cutting capabilities, give us a call at 763-784-4600 or send us a message today.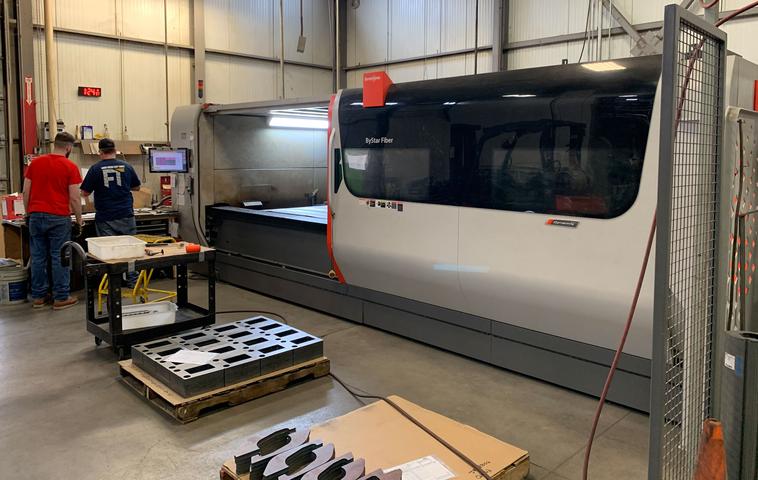 Been There
Cut That
Laser cutting is an excellent choice for the custom machining and manufacturing needs of various industries and applications. Learn more about FedTech's laser cutting services today.