Custom Manufacturing Services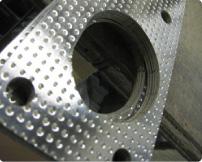 Fedtech is committed to providing high quality custom manufacturing services. Our extensive machine shop knowledge and experience allows us to approach any custom manufacturing job with confidence. We employ a skilled set of programmers and engineers, and a talented production team to transform raw material into high precision parts.
Our engineering and production teams also specialize in reverse engineering. When OEM parts are discontinued or no longer available, we are able to replicate old parts to produce an identical custom manufactured replacement part.
See a case study on a recent reverse engineering project that we completed for a vintage elevator!
We provide numerous in-house manufacturing services from laser cutting to custom gaskets so our customers won't have to deal with multiple shops with multiple deadlines and capabilities. At Fedtech, our goal is to provide a one-stop shop for all your custom manufacturing needs.
To request a custom quick quote for your next project, contact us today for fast lead times and quality products. Email us at sales@fedtech.com or give us a call at (763) 784-4600.