Contract Manufacturing
Fedtech is a custom and contract manufacturer located just outside of St. Paul, Minnesota. We specialize in custom waterjet cutting and laser cutting of nearly any material including stainless steel, carbon steel, rubber, aluminum, plastic, and many more. Our custom machine shop includes numerous in-house value added services including finishing, forming, drilling, tapping, welding, custom assembly and more.
Our Shop Mission
Our future depends on each employee understanding how quality affects all aspects of Fedtech. Quality is a total organizational responsibility. Therefore, Fedtech is committed to providing our customers with custom machined parts that meet or exceed their requirements by implementing high quality standards and cost reducing practices. We continually meet our goal of growth and customer satisfaction through effective employee management, customer involvement and continuous quality improvement.
Meet Our Fedtech Customer Service Team!
Sales & Estimating
Superior Customer Service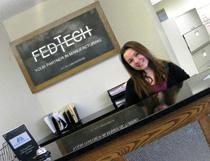 The Fedtech service staff and sales teams are committed to providing complete customer satisfaction. From the moment you contact us to the day your part arrives, Fedtech displays quality in customer care and custom manufacturing. Some of our value-added services include:
Just-In-Time (JIT)delivery program
24 hour priority quoting
Very competitive pricing
High quality custom manufactured parts (ISO 9001:2008 certified)
Cost-effective solutions
Friendly sales team members
Quality demands in today's industries are met with a systematic approach at Fedtech. With more than 30 years of combined experience, ISO 9001:2008 quality standards and one of the largest capacities in the US, we offer laser and waterjet processing from prototype to production. No matter what your industry, we aim to assist all types of applications. From defense to architecture, art to energy, medical to automotive and everything in between, Fedtech is your partner in manufacturing.
Fedtech also provides customers with a turnkey solution that offers a wide array of fabricating services that includes: forming, cutting, welding, deburring, custom assembly, drilling, tapping, and finishing.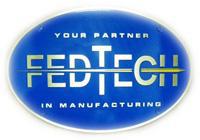 Growth in the Job Shop
As the abrasive waterjet cutting industry gains recognition as a valuable custom manufacturing alternative, Fedtech Inc. has earned a reputation as one of the most capable and versatile custom job shops in the field. Fedtech's extensive material inventory of 15,000 square feet and 30,000 square feet of manufacturing gives us 45,000 square feet of unparalleled waterjet and laser cutting capacity.
If we do not have the material you need to cut, we will source it nationwide. While the competition may be unable to provide all the required materials, we at Fedtech know just where to get it and how to run your custom machining job efficiently and inexpensively. All of this amounts to quick turnaround and quality parts, creating a way for your company to save time and money with the right materials.
Custom Machining From Start to Finish
Fedtech starts with drawings provided in virtually any method: DXF, IGES or Autocad files, samples, faxes, and e-mail. Fedtech has the expertise required to consult with customers and provide value engineering related to your project.
Fedtech is also proud to be recognized by the following accredited associations



Special Feature: About Fedtech
Watch this short video to learn more about our custom machining process. For more of our videos, visit our Videos page. For Fedtech success stories, you can visit our Case Studies page.
Contact Fedtech today to request more information about our waterjet and industrial laser services or to receive a custom quote!